Dual-Action Formula:
1200mg certified organic turmeric powder

300mg standardized 95% curcumin extract

10mg BioPerine® black pepper fruit extract (for absorption)

120 vegetable capsules

Lifetime 100% Satisfaction Guarantee
Directions:
For adults, take one (1) to two (2) vegetarian capsules once or twice daily, preferably with a meal. Otherwise take as directed by your healthcare professional.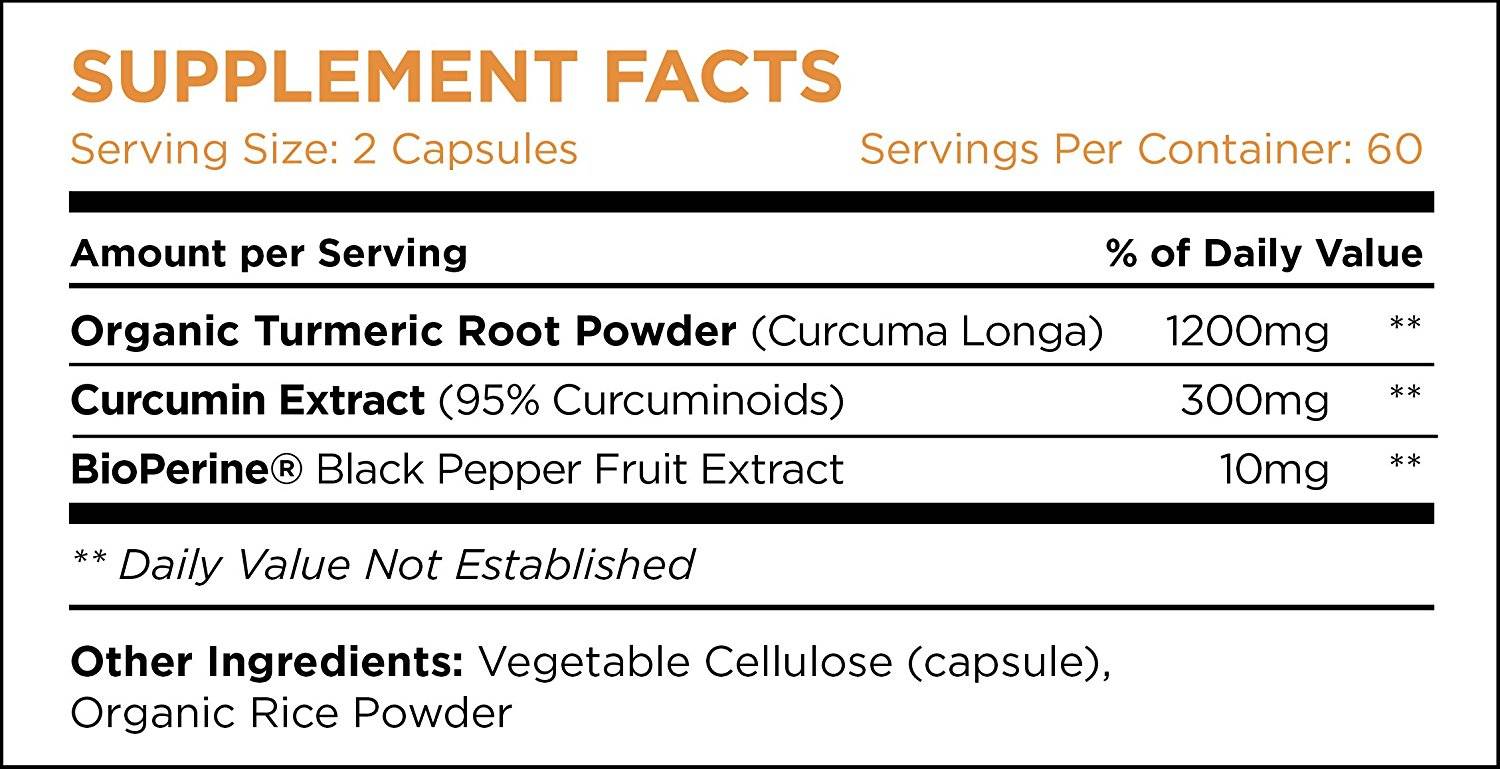 with 95% Curcumin Extract

ORGANIC TURMERIC ROOT WITH 95% CURCUMIN EXTRACT BLEND – Dual-action formula with 1200 mg certified organic turmeric powder and 300 mg curcumin extract 95% per serving. Studies have proven that taking turmeric or curcumin independently is not as effective as combining them.†


CLINICALLY PROVEN BIOENHANCER BIOPERINE® (10 mg) – Natural turmeric powder has low bioavailability, thus making it difficult for intestines to absorb. Our turmeric curcumin formula includes a clinical dose of Bioperine® black pepper fruit extract which utilizes Piperine. Studies have shown that Piperine can increase curcumin bioavailability and enhance absorption by up to 2000%†


ANCIENT MEDICINE MEETS MODERN SCIENCE – Turmeric has an extensive history of medical applications and benefits, with usage in Ayurvedic medicine dating back over 4000 years. Modern science has done nothing but confirm turmeric's track record, with over 6000 clinical trials and studies proving turmeric and curcumin's effectiveness.†


POWERFUL, NATURAL ANTIOXIDANT – Curcumin contains high concentrations of polyphenols, plant-based antioxidants believed to provide a wide range of health benefits. Many studies show curcumin may have the ability to surpass man-made pharmaceutical anti-inflammatories in helping to protect cells against oxidative stress and deterioration.†
100% NATURAL CURCUMIN EXTRACTION – While many sell petroleum-based curcumin as natural, we use a water-based extraction method to ensure a 100% natural product. Our turmeric curcumin is produced in the USA, in a NSF-certified, FDA-registered facility, under the strict Good Manufacturing Practices (GMP) guidelines.
OmniBiotics® Organic Turmeric
With USDA Certified Organic Turmeric Root Powder, Standardized 95% Curcumin Extract &
10mg BioPerine for absorption.
Certified Organic Turmeric Root Powder
Our formula includes 1200 mg of certified organic turmeric root powder per serving.

95% Standardized Curcumin Extract
300 mg of 95% standardized curcumin extract per serving.

BioPerine® Black Pepper Fruit Extract
BioPerine® utilizes piperine to increase bioavailability. Studies have shown piperine can enhance absorption by up to 2000%.
100% Natural Curcumin Extraction
We use a water-based extraction method to ensure a 100% natural product.

Made In The USA and 100% Natural
Made in USA in a GMP and NSF certified facility. 100% Natural, Non-GMO, gluten-free and vegan-friendly.

365 Day Satisfaction Guarantee!
We are so confident that you will love our turmeric curcumin, that we offer you a 100% Money Back, 365-Day Guarantee!
What Our

Customers

Say
See why over 100,000 people choose OmniBiotics
Become a VIP
Get exclusive discounts
OmniBiotics VIP members receive exclusive discounts, offers, and health tips. We never share your email, and the best part is: it's free!