VEGAN OMEGA DHAx Information:
60 Vegetarian-Friendly capsules per bottle

MD-Certified™ formula

30-Day Supply

Lifetime 100% Satisfaction Guarantee
Directions:
For adults, take one (1) vegetarian capsule once or twice daily, preferably with a meal. Otherwise take as directed by your healthcare professional.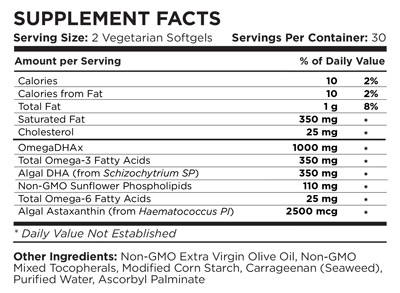 100% VEGAN OMEGA DHA SUPPLEMENT – OmniBiotics Vegan Omega DHAx is fish-free, mercury-free, and specially formulated with vegans, vegetarians and health conscious consumers in mind. Our MD-Certified formula has been extensively researched for efficacy. Each serving contains 350 mg of Algal DHA, 350 mg of Omega-3, and 20 mg of Omega-6 essential fatty acids. Super antioxidant, astaxanthin, and non-GMO sunflower phospholipids are added to create a unique, plant-based omega supplement.


SAY GOODBYE TO CHEMICALS AND FISH BURPS – Most Omega DHA supplements use fish oils which can accumulate toxins such as mercury, dioxins and polychlorinated biphenyls (PCBs). Our ultra-concentrated Algae Omega formula is derived from farm raised algae, is free of heavy metals and toxins, and is more environmentally friendly and sustainable than fish oil. With burpless, fish free pills, fish burps are happily a thing of the past!


SUNFLOWER PHOSPHOLIPIDS & VEGAN ASTAXANTHIN – Our potent science-based Omega-3 DHA alternative supplement to fish-oil includes 110 mg of sunflower phospholipids and 2500mcg of microalgae astaxanthin (Haematococcus Pl). Research has shown that Astaxanthin's antioxidant activity is up to 6000x more powerful than vitamin C. Phospholipid forms of Omega-3 fatty acids aid in processing fats and supporting cell membranes, while also helping to provide superior absorption and maximum bioavailability.†


SUPPORTS BRAIN AND EYE HEALTH – DHA is one of the most prominent Omega-3s comprising over 50% of essential fatty acids in the brain's gray matter and retina. This makes it critical for brain development, cognitive and visual function, learning, memory and emotion. Omega-3 deficiency which is common in Western diets can result in chronic inflammation, which may be the root of many diseases. Omega-3 fatty acids help reduce inflammation and can put the body in a conducive state of healing.†
OmniBiotics® Vegan Omega DHAx™
A 100% Sustainable DHA
Supplement
Contains Omega-3, Omega-6 and DHA derived from Blue Algae!
Our PLANT-BASED ultra-concentrated Algae Omega formula uses no animal ingredients.

Features 2500mcg MicroAlgae Astaxanthin (Haematococcus Pl). Astaxanthin (AST) is a red dietary carotenoid with potent antioxidant activity.

110mg Sunflower Phospholipids
Studies show phospholipid forms of Omega-3 fatty acids help process fats and support cell membranes, helping minimize age-related decline.
100% more environmentally friendly and sustainable than fish oil.

365 Day 100% Satisfaction Guarantee!
We're so proud of our Vegan DHAx that we offer a no-questions-asked 365-Day 100% Satisfaction Guarantee!

MD-Certified™ Vegan DHA Formula

Made in USA, Vegan Omega DHAx is produced within GMP compliant, NSF certified and FDA inspected facilities.
What Our

Customers

Say
See why over 100,000 people choose OmniBiotics
Become a VIP
Get exclusive discounts
OmniBiotics VIP members receive exclusive discounts, offers, and health tips. We never share your email, and the best part is: it's free!